Arkansas Union Advisory Committee
Arkansas Union Advisory Committee
AUAC Applications Open for 2022-2023 Academic Year
The Arkansas Union Advisory Committee is now accepting applications for student positions for the 2022-2023 academic year. All student positions are available, incluing four (4) officer positions and four (4) general student member spots. Applications will be open through May 4th, 2022.
Please find the application here. Questions about the application can be directed to Sophia Schmidt, Union Graduate Assistant, at unionga@uark.edu or Rob Stagni, Union Director, at stagni@uark.edu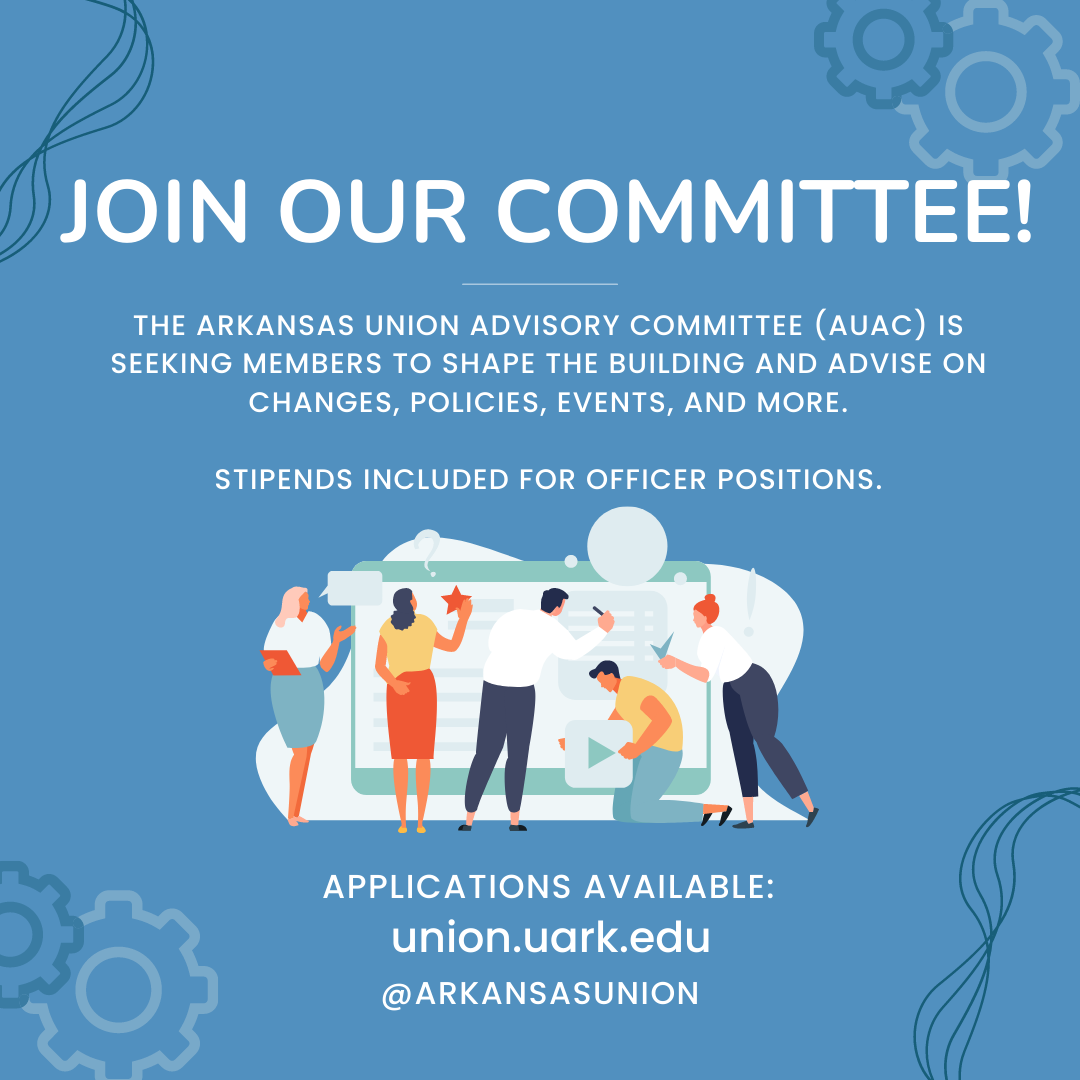 The Arkansas Union Advisory Committee (AUAC) makes recommendations on the formulation of policies and operations of the Arkansas Union, the allocation of Union space, and acts as an advisory body for administrative and business functions of the Union. The AUAC is comprised of an executive board of students and a full committee of appointed students, faculty, and staff members from across campus.
The AUAC is a great opportunity to be involved in a major part of the University of Arkansas experience. We will be hosting several events on campus this year, and hope to make an impact on the Union and the University of Arkansas!
Want to join AUAC and make an impact? Contact Sophia Schmidt (unionga@uark.edu) or Madi Martin (mnm017@uark.edu).
AUAC Committee Members 2021-2022
Madi Martin

Chair

Senior

Marketing

Gabi Gies

Vice-Chair

Junior

Political Science/Psychology

Tyler Merreighn

Secretary

Junior

Public Health/Biology

Katie Kudrna

Public Relations Chair

Senior

Sports Mgmt/Hospitality Mgmt

Larissa Ramey

Student Board Member

Master of Fine Arts

Photography

Grady Schmidt

Student Board Member

Junior

Supply Chain Mgmt

Sophia Schmidt

AUAC Advisor

Master of Business Administration

Marketing

Rob Stagni, EdD

AUAC Advisor

.... old person